VU Student Develops Math App for Visually Impaired Students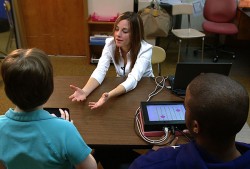 This week, the Vanderbilt VUCast and the Research News at Vanderbilt site feature the work of Jenna Gorlewicz, a graduate student in the Medical and Electromechanical Design Laboratory (MED Lab) at Vanderbilt University, and her adviser Robert Webster, an assistant professor of mechanical engineering, who directs the lab. Gorlewicz has developed and is testing a new Android app, one designed to assist visually impaired students in mastering algebra, geometry, graphing and other subjects that are particularly hard to comprehend without the aid of normal vision.
"When I began reading articles about haptic technology being incorporated into these new touchscreen devices, I realized that the people who really need haptics are people with impaired vision because they heavily rely on their sense of touch to 'see' the world around them." Gorlewicz said. "I love math and I love teaching, so I immediately thought of using them for math education, because it has such a strong visual component."
Given the enthusiastic reactions of students who are testing the app at local Hillsboro High School, it's believed that her innovation could have a major impact on how science, technology, engineering and math – the critical STEM subjects – are taught to the visually impaired.
Gorlewicz was a Teaching as Research Fellow in 2008-09 and worked on a project alongside Caleb Rucker adviser Robert Webster. The project investigated effectiveness of haptic paddle project laboratories in teaching, which is the same technology Gorlewicz later applied to developing the app for vision impaired students. You can view their project here: Getting a Feel for Dynamic Systems through Haptic Robots [VUnetID req.]
Read the entire article and check out the VUcast to see local students testing the app.