Celebration of Teaching Spotlight: Campus Collaborations
The work of the Center to support teaching and learning at Vanderbilt takes many shapes and durations, ranging from single conversations to multi-year collaborative projects.  In partnership with many other units across campus, we build bridges within the university, bringing together people with shared visions for teaching and learning who might not otherwise recognize the interests they have in common.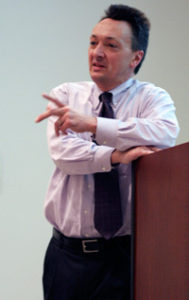 John Sloop, Senior Associate Dean, College of Arts and Sciences, will be a featured speaker at the Celebration of Teaching on Wednesday, May 2nd. John has been a workshop panelist for the CFT in the past, and this year he served a mentoring role for our Junior Faculty Teaching Fellows. He is also co-leading the Chancellor's Committee on Social Media and the Internet, which is exploring ways that technology can (and perhaps should) enhance the teaching mission of the university. John will share some thoughts on the ways that teaching is often more effective and enjoyable when approached collaboratively.
We'd like to especially thank these partners:
American Studies
Center for Nashville Studies
Alliance for Community Engagement
Center for the Integration of Research Teaching, & Learning
Contemplative Pedagogy Working Group
The Curb Center for Art, Enterprise, & Public Policy
Dean of Students Office
The Division of Public Affairs
English Language Center
Graduate Development Network
Information Technology Services
Ingram Commons
Ingram Scholars Program
The Office for Teaching & Learning in Medicine
The Office of Career Development & Outcomes Analysis
Program for Career Development of the College of Arts & Science
Robert Penn Warren Center for the Humanities
Undergraduate Writing Program
Sustainability & Environmental Management Office
University Libraries / OAK
Vanderbilt International Office
Vanderbilt Institutional Research Group
Vanderbilt Student Government
Vanderbilt Visions
The Writing Studio
Please join us. We ask that you RSVP to the Celebration of Teaching by May 1. The celebration includes remarks by:
Richard McCarty, Provost and Vice Chancellor for Academic Affairs
Dennis Hall, Vice Provost for Research and Dean of the Graduate School
John Sloop, Senior Associate Dean, College of Arts and Sciences
Emily Nacol, Political Science, Junior Faculty Teaching Fellow
Jessica Riviere, German, Teaching Certificate Recipient
Celebration of Teaching Program  (Wednesday, May 2, 2012)
4:00-4:30 Reception & Posters
4:30-5:00 Welcome by Richard McCarty, Acknowledgments by Derek Bruff, Featured Speakers, Awarding Teaching Certificates by Dennis Hall
5:00-5:30 Reception & Posters