Join us for the SoTL Symposium on April 12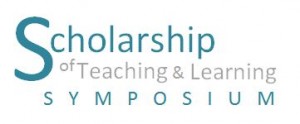 On April 12, the Center for Teaching is excited to host the second annual Scholarship of Teaching and Learning Symposium. This symposium provides an opportunity for participants in Cycle 3 of the Teaching Certificate Program to share their SoTL projects. By doing so, participants 1) develop deeper understandings of teaching and learning processes, 2) realize ways in which they can approach their teaching in a scholarly manner, 3) contribute to the larger community of teachers, and 4) prepare for future faculty roles in assessment and accreditation efforts.
This year's symposium will feature:
Cassandra S. Koontz (Anthropology)
Missing the Forest for the Trees: Concept Map Horizontality and Performance in an Introduction to Biological Anthropology Course
Katie McEwan (German)
Learning German on the Internet:  How does a collaborative course wiki impact student learning in a fourth-semester German course?
Angela Cowser (Divinity)
Using Rubrics to Improve Student Comprehension and Writing
Kim Scott (Masters of Liberal Arts and Science)
A Comparative Analysis of Teaching Methods: Lecture Only, Demonstration and Hands-On Activities, and Written Instructions and Hands-On Activities
Robert Brucker (Biological Sciences)
Student directed content and longer-term impact after the course is over

Wenyue Du (Biological Sciences)
Impact of Online vs. Traditional Paper-and-pencil Homework Assignments in Student Learning in an Introductory Biology

Rebecca St. Clair (Psychology)
Students Prefer Standard Multiple Choice Questions
Please join us to connect, exchange ideas and strengthen the research community in teaching and learning at Vanderbilt by registering now!
In Cycle Three, participants engage in the scholarship of teaching and learning (SoTL). As explained in the CFT's teaching guide on the topic, SoTL involves:
asking questions about student learning and the teaching activities designed to promote student learning in an effort, at least in part, to improve one's own teaching practice
answering those questions by systematically analyzing evidence of student learning
sharing the results of that analysis publicly in order to invite review and to contribute to the body of knowledge on student learning in a variety of contexts
You can find out more about the Teaching Certificate Program and see previous cycle three projects on the CFT's website.  Blog posts about last year's symposium are available on the CFT website as well.
Be sure to pass on this invitation to colleagues in your department if you think they'd be interested in hearing about the SoTL projects completed by participants in the Teaching Certificate Program.