Top Hat Training Opportunity This Week!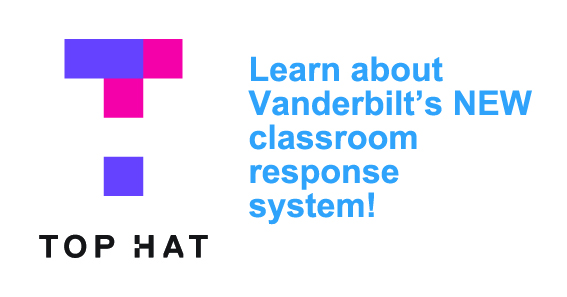 Thursday, June 15th
10:00 am
Top Hat is the first classroom response system to be adopted campus-wide at Vanderbilt. Top Hat will be available to faculty, students, and staff across campus starting July 2017.  Instructors teaching with "clickers" are invited to consider Top Hat for in-class student polling.
In this web-based introductory session, Kara Dingboom, Enterprise Account Manager at Top Hat, will help you become familiar with the basic functions and features of the product.
You can participate from your own computer or we welcome you to come to the Center for Teaching and participate from our classroom. Contact Rhett McDaniel for details and to register.
Can't attend this session?
Save the date and be on the lookout for registration links for these upcoming Top Hat demonstrations:
Tuesday,  June 27 – 2pm
Thursday, July 13 – 2pm
Tuesday, July 25 – 10am
---
Stay current with news about Top Hat at Vanderbilt by visiting vanderbilt.edu/tophat.
---