Top Hat Week Begins Jan. 28th!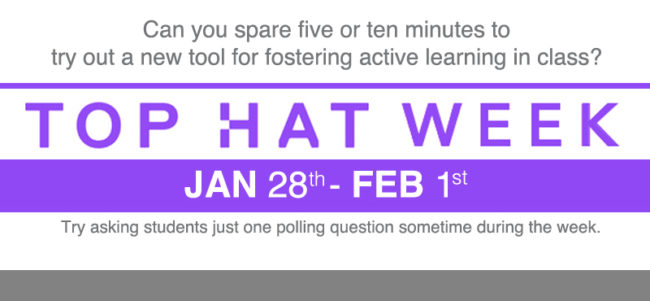 ---
Are you interested in new ways to engage your students during class? Top Hat is Vanderbilt's classroom response system, available for free to all faculty, staff, and students. Using Top Hat, instructors can pose polling questions and ask all their students to respond using their phones or laptops. Top Hat quickly collects and visualizes student responses, giving instructors a snapshot of student learning they can use to inform class discussion.
The week of January 28, 2019, is Top Hat Week at Vanderbilt. The Center for Teaching is encouraging all faculty to try Top Hat by asking their students just one polling question sometime during the week. Can you spare five or ten minutes of class time to try out a new tool for fostering active learning?
Visit our guide for Top Hat week for ideas on using Top Hat in your classroom, along with step-by-step instructions for getting started. It's easier than you might think.
If you have any questions about Top Hat Week, or you'd like to tell us how it went, just email cft@vanderbilt.edu.
---