Top Hat Week Is Here!
by Derek Bruff, CFT Director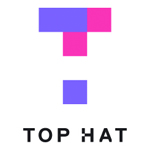 It's Top Hat Week at Vanderbilt! What does that mean? Well, we're encouraging everyone teaching a class at Vanderbilt this week to try Top Hat, Vanderbilt's in-class polling system. You can use Top Hat to pose a multiple-choice or free-response question to your students and have them respond using their mobile devices (phone, tablet, laptop). Top Hat displays their collected responses on-screen for debriefing and discussion. In just five or ten minutes of class time, Top Hat can help you create an active learning environment for your students and can provide you with actionable insight into your students' learning.
Way back in 2009, I wrote a book on using classroom polling systems because I saw how effective they were at providing opportunities for practice and feedback during class. Back then, the systems used dedicated handheld devices, usually called "clickers," that students had to purchase at the bookstore. Flashforward to today, when bring-your-own-device (BYOD) systems like Top Hat reduce the logistical challenges of dealing with clickers, and make it easy to use free-response questions for a wider variety of teaching applications. And since Vanderbilt has a site license for Top Hat, there's no cost to faculty or students for using the system, which makes it even easier for instructors to try it out. So why not this week?
For some ideas for using Top Hat, and step-by-step instructions for getting started with the system, see our Top Hat Week guide. If you'd like help, either coming up with polling questions or with technical questions, feel free to reach out to CFT educational technologist Rhett McDaniel. And please let us know how it goes! We're collecting stories via email (cft@vanderbilt.edu) and Twitter (@vandycft).