Liberating Zoom: Strategies for Better Online Discussions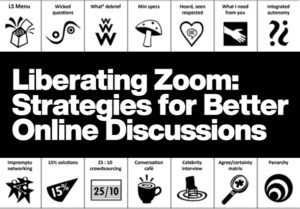 Friday, August 21, 10:30 a.m. – 12:30 p.m. 
Join the Robert Penn Warren Center for the Humanities this Friday for a highly interactive, hands-on exploration of strategies that help build more inclusive and engaged teaching and research communities, online and in person.
Liberating Structures, led by Anna Jackson and Fisher Qua, is a methodology grounded in the idea that the strategies commonly used to organize collaborative discussion often end up stifling creativity and a sense of belonging.
In this session (and others to follow), you'll learn new ways to encourage students and fellow colleagues to take risks, to tolerate ambiguity, and to engage others' perspectives both critically and generously.
Come ready to engage, share, and learn new ways to build community in your classes and collaborative discussions, whether you're teaching online or in person! 
After registering, you will receive a confirmation email containing information about joining the meeting.