Never Going Back: What Online Teaching in the Times of COVID Can Add to Our Teaching Toolkits – Katie Clements
by Mohammad Meerzaei
A New Arrangement of Lectures and Reading Assignments:
Dr. Katie Clements, Senior Lecturer in Chemistry
T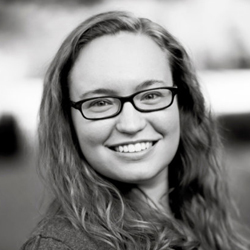 eaching first-year writing courses, Dr. Clements found herself in an especially demanding situation when shifting to online teaching. Not only did she have to manage a swift transition to online teaching, but she also had to help freshman students face the challenges of adapting to college, now intensified with this crisis. She tells us what online teaching taught her about helping students, particularly around motivation and time management, and how educational technology has assisted her in remapping her teaching.
Clements was teaching a first-year writing course titled "The Chemistry of Everyday Things" during the shift to remote teaching in the spring of 2020. During that shift, she made it a priority to establish reliable relationships with students and to be as available as possible to answer their questions about all aspects of the class. The resulting virtual office hours were instrumental in helping students through the difficulties and stresses of their earliest experiences with higher education in the time of COVID. Now in her virtual office hours, Clements works on ways to help students stay motivated, one of the key challenges her spring 2020 students faced. Clements also saw how often students struggle with time management, which motivated her to be more straightforward about assignments and due dates and to provide reminders for students about their upcoming deliverables.
Clements shifted some of the lecture components of her course to asynchronous modules in Brightspace. To avoid students getting distracted and bored, she realized, it was necessary to condense the recorded lectures, focusing on content that would prepare students for subsequent discussion. In her synchronous class sessions, Clements spends more time on active learning. "In class," Clements said, "we can go through and explore examples, look for some weird things that may happen, and talk about what thought processes they should have been using, solving different problems." Shifting lecture material to videos students watch on their own time made more class time available for this kind of active engagement. She plans to continue the practice in future courses for this reason and because these videos can remain available to students as short and concise references that they can use at any time. "I think I am definitely going to keep that now that I am very comfortable with making lecture videos," Clements said.
Clements also reports that this year's adaptive teaching has provided her with useful opportunities to learn educational technologies new to her. Producing clickable rubrics with the help of Gradescope (an online grading platform available via Brightspace) has helped her grade more efficiently and provide students more useful feedback on their work. For her reading-heavy course on macromolecular chemistry, she has been using Perusall (an online platform for group reading and annotating texts, also available via Brightspace) to ensure that all students are keeping up with the readings. She finds Perusall helpful for responding to students' comments on the reading and talking to students as needed through the process of the reading. She plans to continue using both of these tools when classes resume in person.
The technology has been helpful, but beyond the tools, the experience of online teaching has helped Clements become a more thoughtful and intentional teacher. The necessities of being succinct and comprehensive at the same time, especially when recording asynchronous lectures, have re-mapped teaching for Clements. "Teaching online," she said, "has made me a little bit better at assessing what exactly I want the students to know, extracting that important information, and making them focus on it."
.
.
.
.
.