CFT offers new guide for writing science exams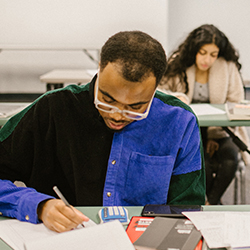 Are you a scientist who uses timed exams in your course? Would you like to know some research-based recommendations for making your exams more valid, effective, and equitable? If the answer to both those questions is yes, check out our new guide for writing science exams. Put together by a learning community of scientists striving for inclusion and equity, the guide describes unintended consequences of curving, exam writing strategies that can help avoid the need for it, and class structures that help students maximize their learning and their exam performance.
Contributors include: Ben Yett from Electrical Engineering and Computer Science; Adriane Seiffert from Psychology; Guil Gualda from Earth & Environmental Sciences; Megan Williams from the MSTP program; Katie Clements and David Cliffel from Chemistry; Vicki Greene, Richard Haglund, Shane Hutson, Savanna Starko, and Keivan Stassun from Physics & Astronomy; Cynthia Brame, Thomas Clements, Jessica Gilpin, Kathy Friedman and Jim Pask from Biological Sciences.
---
.
.
.
.
.