Preparing Syllabi for Your First Faculty Job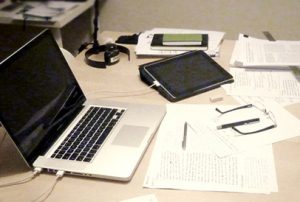 This working group will support graduates students and postdocs who will be new faculty in the Fall of 2022 and expected to teach their own classes.
Starting a new faculty position is stressful and demanding; the CFT hopes to ease this transition by helping graduating doctoral students and postdocs create their needed syllabi in advance of the upcoming school year. As such, this learning community will provide camaraderie, resources, and accountability for the work of syllabi development. Our first session will include a brief presentation about Understanding by Design for course development (Wiggins & McTighe, 1998), introductions of group participants, and goal setting for the duration of the group. At each subsequent meeting, participants will share their progress on their syllabi development goals, discuss any obstacles, and update goals for the next meeting.
Meetings will begin the week of March 21st and occur via Zoom, every other week, on Wednesday or Thursday afternoons; specific meeting time with be determined in collaboration with participants. The first meeting will be 60 minutes; subsequent meetings will be 30 minutes. Please email Sara Eccleston for more information.
---
.
.
.
.
.