Transformational Instructional Design: CFT partners with Peabody to launch a new blended Independent School Leadership Master's Program
by Julaine Fowlin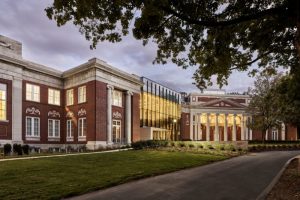 Vanderbilt's Peabody College has launched a new blended (online and in-person) Master's of Education in Independent School Leadership (ISL), building on the strong foundation of the previous summer-intensive ISL program. The new blended model involves more online courses and a reduction in the length of on-campus summer experiences. This change will meet the needs of working professionals and make the program more accessible by removing the barrier of temporary relocation. Additionally, learning will be occurring during the academic year and learners will have more opportunities to apply what they learn in real-time.
In December 2021,  the new ISL program director Dr. Carrie Grimes initiated a partnership with the CFT to implement the new blended model.  Dr. Grimes has been a professional in Independent Schools for almost 20 years and brings a practitioner's point of view to her work. She was also among the first online cohort for Peabody's Leadership and Learning in Organizations Doctoral Program, and she was a guest lecturer in the ISL program.
In the video interview series below, Carrie shares her journey with launching the program with Dr. Julaine Fowlin, assistant director for instructional design. Carrie describes her partnership with the CFT as transformational rather than transactional. She is impressed with the spirit of collaboration and partnership that she has experienced from the CFT, particularly the instructional design support from Julaine and the technical support from the Brightspace Team. In partnership with the CFT, the ISL program has a standard interface to promote a sense of belonging and allow learners to feel that they are part of one program and one community rather than piecemeal courses. This reduces students' cognitive load and provides the learners with a friction-less experience. Carrie is excited to see how students engage with this intentional course design and to get their feedback for continuous quality improvement.
Carrie sees working with the CFT as an opportunity to cultivate a high trust relationship with a thought partner and collaborator and also an opportunity for academic leadership and faculty to learn and grow in their own professional identity. She encourages other departments thinking about launching a new or redesigned online program to approach the collaboration with the CFT with an open mindset and take comfort that the CFT enjoys the creative chaos and level of ambiguity that comes with such an undertaking.
Q: Tell us about your journey to the director's position
Q: What led to the decision to put more of the ISL program online?
Q: What were some questions and concerns that you had prior to working with the CFT and what have you found most valuable about working with the CFT?
Q: What are you most excited about as we get ready to launch the program in May?
Q: What advice would you give to other departments who are thinking about online program development?
---
.
.
.
.
.