Teaching Large Classes
Cite this guide: Wilsman, A. (2013). Teaching Large Classes. Vanderbilt University Center for Teaching. Retrieved [todaysdate] from https://cft.vanderbilt.edu/guides-sub-pages/teaching-large-classes/.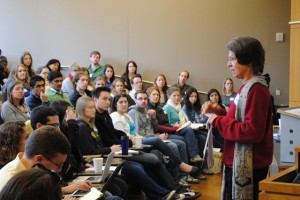 Teaching a large class poses many challenges, both in and out of the classroom. In the classroom, large enrollments can promote student disengagement and feelings of alienation, which can erode students' sense of responsibility and lead to behaviors that both reflect and promote lack of engagement.  Logistics can also be a challenge when teaching a large class. How does one best manage the daily administration of what can often feel like a small city?
Here, we present strategies to help instructors deal with some of the challenges associated with teaching large classes:
Some Recommended Readings
Carbone, Elisa Lynn.  Teaching Large Classes: Tools and Strategies.  Thousand Oaks, CA: Sage Publications, c1998.
Cooper, James L. and Pamela Robinson.  "The Argument for Making Large Classes Seem Small."  New Directions for Teaching and Learning 81 (2000): 5-16.
Heppner, Frank.  Teaching the Large College Class: A Guidebook for Instructors with
Renaud, Susan, Elizabeth Tannenbaum, and Phillip Stantial. "Student-Centered Teaching in Large Classes with Limited Resources." English Teaching Forum Number 3 (2007).
Stanley, Christine A. and M. Erin Porter.  Engaging Large Classes: Strategies and Techniques for College Faculty.  Boston: Anker Publishing Company, Inc., 2002.
References
Angelo TA and Cross KP (1993). Classroom Assessment Techniques: A Handbook for College Teachers, 2nd edition. San Francisco: Jossey-Bass.
Cooper JL and Robinson P (2000). The Argument for Making Large Classes Seem Small. New Directions for Teaching and Learning 81: 12.
Crouch CH and Mazur E (2001). Peer instruction: Ten years of experience and results. American Journal of Physics 69: 970-977.
---

This teaching guide is licensed under a Creative Commons Attribution-NonCommercial 4.0 International License.
Photo Credit: thebarrowboy via Compfight cc
Photo Credit: Jeremy Wilburn via Compfight cc
Photo Credit: steve.grosbois via Compfight cc