CFT Concludes Latest Online Course Design Institute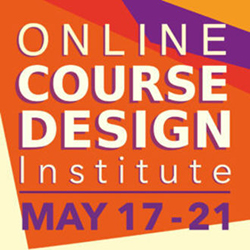 To help faculty prepare for teaching this Summer, we offered an Online Course Design Institute (OCDI). The institute was a revised and updated version of the institute that the Center for Teaching offered in summer 2020 to more than 500 participants. Participants worked in three cohorts led by CFT Senior Staff Members Cynthia Brame, Julaine Fowlin, and Stacey Johnson.
Participants came from several schools across campus, including Arts and Science, Law, Nursing, Owen, and Peabody. During the OCDI, participants were guided through a systematic approach to designing online courses and facilitating synchronous and asynchronous interactions. Participants also had the opportunity to learn about various technology tools and had the option to do an asynchronous micro-teaching session at the end. Participants reported that they found the cohort meetings helpful as they provided an opportunity to work in small groups and focus on specific individual needs.
We want to thank Nancy Hyer, Associate Professor and Associate Dean, Owen Graduate School of Management, for facilitating a very informative breakout session on Gradescope.
"The covid19 pandemic exposed the areas of my course design that needed to be more adapted to online instructional design. I am grateful for the opportunity to participate in the 2021 Summer OCDI. I learned evidence-based strategies for designing and presenting online materials in a way that is motivating, engaging, and rewarding for both students and faculty. I really got more than I was expecting. I learned how to use cutting-edge technology in course delivery. OCID is worth your time investment."
–
Queen Henry-Okafor, Assistant Professor, School of Nursing